Research Overview
Study participants completed an extensive survey on subjects including how they interact with salespeople, the dynamics of team evaluation, their opinions on real-world sales scenarios, and a variety of questions surrounding personal beliefs. The questions differed from traditional buying-behavior questions because I wanted to discover underlying psychological and behavioral tendencies. In other words, participants were asked unusual questions in order to test a variety of customer decision- making hypotheses.
The following topics are covered in this research project:
Risk tolerance – Two-thirds of B2B salespeople were rated as being average or poor and this impacts how customers interact with salespeople and their propensity to take risks.
Group decision making dynamics – Nearly every selection committee has a "bully with the juice" who dominates the decision-making process.
Vendor market position advantages – Different buyer personas tend to buy from underdog vendors versus the goliath of their industry.
The real influence of the Internet on the B2B Sales Cycle – Vendors' websites definitively impact the customer's final decision.
Preferred selling styles – Buyer personas react to different customer selling strategies.
Vendor selections insights – Human nature and past buying experiences determine how evaluators act and which vendor they ultimately select.
RISK TOLERANCE
Two-thirds of B2B salespeople were rated as being average or poor and this impacts how evaluators interact with salespeople and their propensity to take risks. Put yourself in the position of the experienced evaluator who has met with hundreds of salespeople. What percentage of salespeople would you say are excellent, good, average or poor? Overall, study participants rated 12% excellent, 23% good, 38% average, and 27% poor.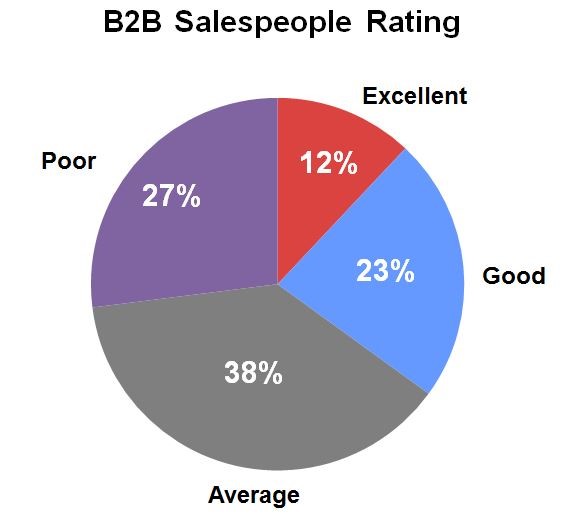 Think about those figures for a moment. What are the implications of nearly two-thirds of B2B salespeople being considered as average or poor? This situation creates an aversion to risk because evaluators have been conditioned to be skeptical and not to trust salespeople in general. Therefore, they'll make every vendor respond to immense RFPs and complete laborious spreadsheets—each product feature and operation has to be fully documented to prove it exists. They'll require meticulous hands-on evaluations of each product and painstakingly documented findings. The goal is risk mitigation and reducing the uncertainty associated with selecting a vendor and making the purchase.
When you look at ratings of salespeople from the perspective of departmental buyers, a pattern emerges. Evaluators who are part of IT, engineering, and accounting are more critical of the salespeople than those from lesser scientific or process-oriented departments such as marketing. Since these analytical buyers have advanced degrees in the sciences (computers, finance, engineering, etc.) they are more likely to be skeptical and consequently more demanding of salespeople. This should not be a surprise since they've had years of systematic education followed by a business career that was heavily focused on scientific methods and data analysis.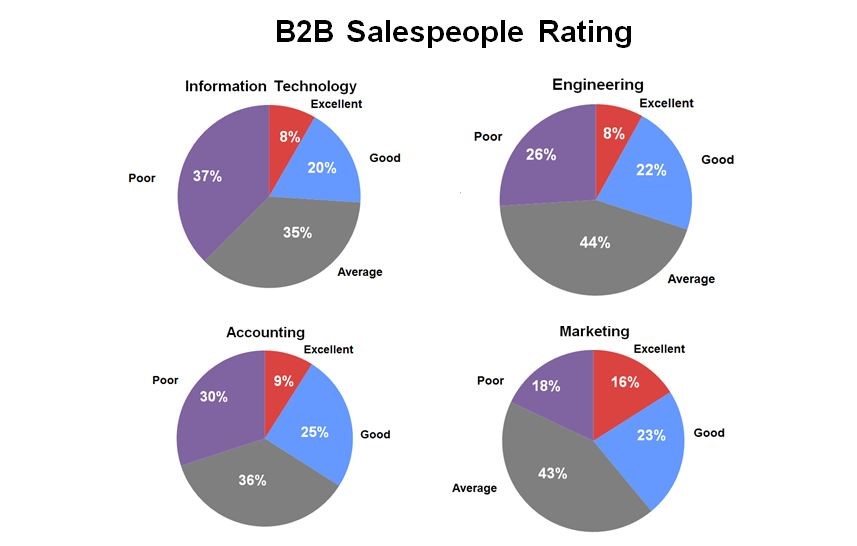 Complete research details can be found in Steve W. Martin's latest book titled Sales Strategy Playbook.