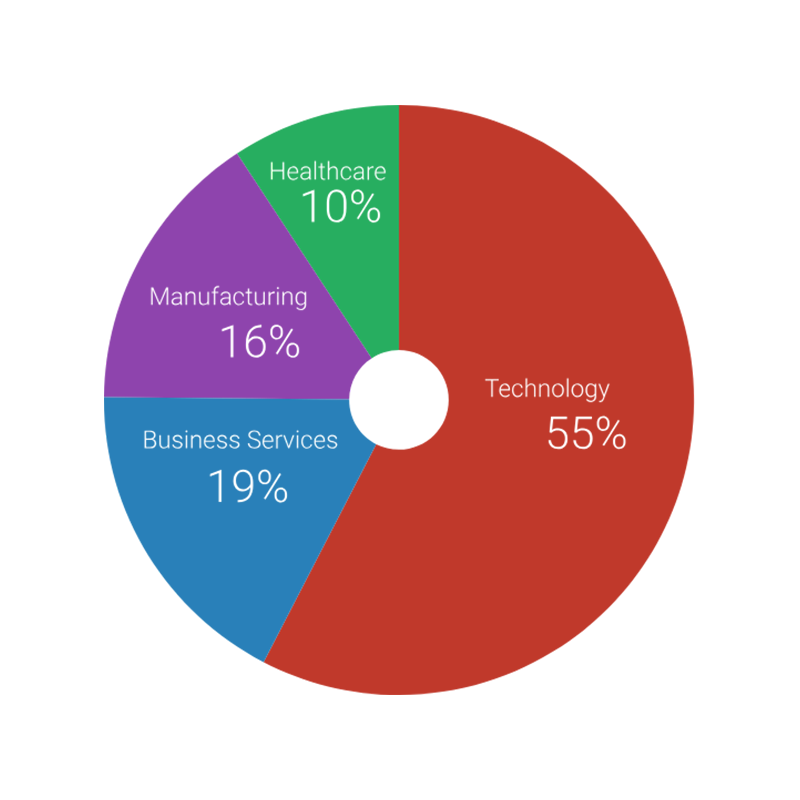 Client Success
Steve W. Martin has worked with 300+ companies providing:
-Sales training, keynote presentations, and breakout session workshops
-Sales strategy consulting and sales playback development
-Win-loss analysis studies based on extensive customer interviewing
-Company strategy, branding, messaging, product positioning and web site makeovers
His clients include:
-Technology Companies, Cloud, Digital, Application Software, Enterprise Software, Hardware, Consulting, Security, eCommerce, Systems Software, Networking, Social Media, Semiconductor, Embedded Technology, Managed Hosting, and Telecommunications
-Business Services, Finance, Insurance, Consulting, Business Information Providers, Legal, Marketing, and Digital Marketing Agencies
-Manufacturing, Distribution, Logistics, and Transportation
-Healthcare, Medical Device, Pharmaceuticals, and Food Companies
"I was very pleased with Steve's sessions on CIO sales strategy, enterprise account management, advanced customer communication, and the top salesperson panel that he conducted at our sales kickoff. He delivers on what he promises."
George Bennett, SVP Worldwide Field Operations, Isilon Systems division of EMC
"Over 400 Google managed service partner sales representatives worldwide last year completed The IT Sales Strategy and Selling to the CIO training with a well-received learning experience that earned a 98.5% satisfaction CSAT overall. Those are numbers to be proud of."
Brad Starr, Sales Enablement, Google
"The IT Sales Strategy and Selling to the CXO session was loaded with recent facts, thought provoking information, and actionable concepts. Everyone will be reading Heavy Hitter IT Sales Strategy!"
Nick Ferrante, Executive Vice President Global Sales, Axway
"Steve Martin did a fabulous job and brought content, humility and context to our annual meeting. His strength is your ability to understand our context and tailor the session to meet that. He took time to understand and prepare which came out in the results."
Raj Elango, Vice President, Mphasis division of Hewlett Packard
"Steve's kickoff session provided the perfect mix of enterprise sales strategy, advanced sales psychology, and light-hearted humor. The Tales from the Field salesperson interview panel he conducted was a conference highlight."
Lisa Pope, Vice President Global Sales Strategy, QAD Software
"Steve's participation at our sales conference was invaluable. He closed our meeting with an uplifting, motivational presentation. He interviewed our top salespeople in his Tales from the Field panel. And, he conducted several hands-on break-out sessions on advanced sales strategy, sales psychology, and customer communication."
Jim Brown, Vice President Strategic Sales, Wonderware Software
"Steve Martin did an excellent job of setting the stage with his keynote presentation. The breakout workshop sessions were very well received and the common complaint was 'we need more time' as everyone wanted to share their problem and get his advice."
Tony Cassetta, Head of Business Performance and Strategic Planning, Nokia Siemens Networks
"Steve Martin was incredibly detailed, organized and engaged with our team. Our sales team left our annual meeting with the ability to be more thoughtful in the words they choose and how they interact and influence customers. I heard really great things about his four different breakout session and everyone is excited to read his book. It was a wonderful experience working with him."
Amanda Comeaux, North American Sales Enablement Program Manager, Lenovo
"Steve provided so much new information to me or structured in a manner that I never thought of. He spent a lot of time researching our market and I was very impressed. His delivery and engagement was strong but easy-going, it kept the audience's attention."
Glenn Smith, President, Global Technology Information Resources
"During the past twenty years I have seen it all--sales training, motivational sessions, coaching sessions, and workshops. But Steve Martin has generated the most enthusiastic feedback I have ever seen from a field sales organization!"
Scott Raskin, CEO, Mindjet Software
"Wow, the feedback was outstanding on Steve Martin's session! The manner in which he engaged the audience and got them to think about the psychology of the sale absolutely exceeded my expectations!"
Rob Consoli, Vice President of Sales, Liaison Technologies
"Steve did a fantastic job fully understanding the current challenges facing our Sales organization and bringing timely and helpful perspectives to our team. His prep work and ability to connect with those in Sales roles was fantastic. The session that was deeply appreciated by our global sales team and leadership."
Jim Jones, Senior Director Global Field Enablement, Atlantis Computing
"Steve gave an insightful session on IT sales strategy at our annual meeting. He then followed up the workshop with webinars at critical moments during the following quarters to reinforce the concepts and apply the strategies."
Mike Puterbaugh, Vice President of Marketing, Beyondtrust Software
"The IT sales strategy training was really fantastic. Steve conducted a lot of up-front investigative research so that everything was really applicable to our sales group, process, and customers. I know my team and they can get pretty numb in some training sessions. But this had lots of different parts - some discussion, some slides, tests and plenty of interaction. I've had nothing but positive comments from everyone who attended and they look forward to putting some of this stuff into practice!"
Colleen Edward, Sales Enablement Director, Perceptive Software division of Lexmark
"Everyone really enjoyed Steve Martin's sales management workshop. A number of people came up to me telling me what a good session it was and how they liked his down-to-earth approach. It met our goals and gave our sales managers specific strategies they can begin incorporating this week."
Tony Likovich, Vice President of Business Development, Truven Health Analytics
"Steve Martin is part sales professional, part psychologist and part military historian, all rolled into one. His Heavy Hitter sales strategies and tactics are borne from real-world selling experience where organizational politics and personal emotions decide the outcome of a sales campaign (vs. features, advantages and benefits). "
Gary Staley, Vice President of Americas Sales, Fluke Networks
"Steve Martin did an outstanding job at our sales kickoff, captivating for 4 hours straight an audience of senior sales executives who typically have a short attention span in long meetings. I walked away with three significant new ideas which will be practiced with my sales teams throughout the coming year."
Rene Pharisien, Vice President The Americas, Sendmail, Inc.
"Steve Martin's workshop provided expert advice on how to the influence the complex sales cycle. His insights based upon his extensive win-loss analysis research and interviews with hundreds of top enterprise salespeople are truly unique."
Martin Onofrio, Vice President, Triple Point Technology
"Steve addressed 250 of our professionals that deal with senior executives every day in their direct and supporting sales roles. He is an individual that recognizes and promotes sales as a profession, and provides the tools and the process to "Make It Happen!" I recommend the speaker and his book!"
Monty Carter, President, TELUS Enterprise Solutions
"The key to sales success is understanding your prospects by making a personal connection. Steve Martin is a master of sales psychology, and he provides specific tactics that will enable you to speak your customer's language."
Michael Nelson, Vice President of Sales, ON24
"Steve Martin has made a tremendous impact to our results by developing our salespeople beyond the customary sales skills."
Frank Maylett, Executive Vice President of Sales, inContact
"Steve Martin gave a great presentation at our sales kick off. We were very pleased with the content delivered and feedback from the sales force was great."
Bill Fathers, President, Savvis
"An Informative, funny, and inspiring session at our annual sales kick off conference. Steve Martin hit the nail right on the head with his presentation and delivery. He knew our business and his professionalism in preparing for our meeting showed. The team really learned from it and he received a standing ovation from the crowd of 100+ senior salespeople."
Joe Vitalone, Vice President Sales, ShoreTel
"The session was excellent. It absolutely achieved our goals of engaging our sales team and teaching them skills to help them be the best. It went well beyond normal 'sales process' training."
Tom Furey, General Manager, Standard Register
"Steve Martin provided a great C-Level Selling session for our sales kickoff event that truly resonated with our senior sales audience. His excitement and energy left the entire audience wanting more. Next we engaged Steve to conduct an extensive win-loss analysis by interviewing key decision makers at crititcal accounts. The study results were presented to the field in conjunction with regional sales training workshops to improve sales effectiveness. He did a great job!"
Pam Mallin, Director of Field Training, Sterling Commerce Division of IBM
"I received incredible feedback about how great Steve Martin's half-day sales workshop was. The team was energized and the buzz was all about sales linguistics and sales psychology. That's a very impressive feat for the last day of a four day sales meeting!"
Cheri Palmer, Marketing Director, Wolters Kluwer Health Systems
"Steve conducted an excellent session on C-level sales strategy, a great workshop for sales managers, and moderated an insightful best practices panel consisting of top salespeople at our annual resellers conference."
James George, Director VAR Development, Solidworks Software
"The survey around personality and management style was interesting, fun, and informative. I believe it gave initial insights into how communication styles can be understand and approaches adapted. The session provided Interesting tools for senior sales executives who are always looking for advantages and competitive edge."
Larry Barker, Senior Vice President Americas Sales, CSG International
"Steve Martin's Heavy Hitter Sales Psychology presentation was the talk of our annual sales meeting. Salespeople continually referenced it, in the hallways, and in the many workshops – the Heavy Hitter theme was all around."
Frank Harder, Vice President of Global Major Account Sales, Philips Lumileds
"The keynote and breakout sessions exceeded my expectations. It was what I hoped for, meaning it gave our very experienced team some new ideas and tools that they can use if they are looking for a way to improve their game. At the same time it was not prescriptive with respect to sales management style and philosophy as would be the case if we had chosen some form of Value Based or Solution Selling."
Steve Oppenheimer, ?Group Director Sales Operations at Cadence Design Systems
"Steve is a consummate sales professional with exceptional vision and experience. He works to make sure marketing and sales are working in lock step and he has been pivotal in the success we have had here at AVST. Steve's intelligence and practical quantified approach make him highly effective in gaining the trust of the connected teams. Our continued sales training and onboarding of new members always start with Steve's books. He has inspired our program members and I look forward to many more years of working with Steve. I highly recommend him for any company that wants to grow with a highly calibrated program. Simply put – he is the best."
Denny Michael, Vice President of Marketing, Advanced Voice Speech Technologies
"An enlightening workshop that provided the excitement our dealer meeting needed. Attendees learned a thing or two and thoroughly enjoyed themselves."
Sam Shelton, Marketing Director, Kawasaki Construction Machinery
"A great four hour workshop and I received positive feedback from everyone; field sales, inside sales, sales engineers, marketing, and the exec team. The workshop was the right mix of sales stories, facts/figures, and sales training such as LinkedIn as a prospecting tool, Proof Of Concept definitions (advancement or confirmation), reinforcing the importance of multiple touch points to get Wider Deeper Higher, knocking down more bowling pins, reasons people buy from you, and the shift in sales staff to inside from outside sales. I would rate it a 10 out of 10."
Todd Rychecky, Vice President of Americas Sales, Opengear
"Steve Martin's keynote and the Tales from the Field top salesperson panel were the highlights of our Sales kick off. There are very few sales trainers capable of delivering a keynote speech around the ever so complex EdTech sales cycle. Steve is one of them! The thing that impressed me the most personally was with how much diligence and interest Steve prepared for the meeting. His passion for teaching and his enthusiasm for our newly developed product lines was the icing on the cake."
Marc Daubach, Corporate VP International, Turnitin
"Steve Martin's workshop exceeded our expectations and was the highest rated session by attendees of our annual sales kickoff. It provided a very pertinent outside in view of our industry, the realities of the challenges that lay in front of us, and a call to action to build customer relationships. It incorporated techniques to improve our skills through the discovery of sales linguistics. The Tales from the Field top salesperson best practices panel provided an opportunity for the field to hear from their peers. It presented a number of important attributes of top sales people but also covered deals which are indicative to the success of our company – retention, upsell, and cross-sell. The feedback received from the sales meetings was overwhelmingly positive."
Susan Whittemore, Global Sales Program Manager, Rocket Software
"Steve spent lots of hours of time up front between conference calls and interviews to understand our business and our go to market model. He customized his content for out meeting and group which is not typically seen today. Overall, a great message and delivery that the mark and resonated with our salespeople."
Scott Ottman, Vice President of Inside Sales Sales Operations, Lenovo
"Steve Martin's keynote presentation scored a 10 and was the attendees' favorite. Many references have been made to his content in the days that followed."
Mac McGary, Executive Vice President of Global Sales, GT Nexus
"The three hours Steve Martin spent with Charles River Development was the best part of our four day meeting."
Deborah Stark, Field Marketing Manager, Charles River Development
"My entire team all came away from the meeting with a renewed focus. They have greater appreciation for who their customers truly are and how they make their buying decisions. The time Steve took to learn our business impressed everyone and the Tales from the Field sales rep interview panel was a big hit. Steve helped make a very important meeting great!"
Tim Glynn, National Sales Director, Ferring Pharmaceuticals
"Steve Martin is phenomenal! His presentation was amazing and the perfect way to cap off our sales conference. It was right on the money and hilarious. His Selling to the C-Level breakout session received glowing reviews. He contributed greatly to the success of our meeting."
Kellye Wicker, Director of Marketing, Recall
"The workshop was one the best I have been a part of in my 25 years of sales. Steve took a very complex concept, sales linguistics, and made it approachable and accessible for a broad audience. Steve's style as an educator was a great fit for my team. He was able to demonstrate tremendous knowledge and understanding of the material without coming across as arrogant or condescending."
Mark Rudy, Vice President of Sales, Hubert Corporation
"A great, provocative, and amazing session that prompted significant discussion and thought about how to raise the bar to win the game. The session was extremely valuable while also covering a significant amount of content."
Sheila Plunkett, Vice President North American Sales, Sopheon
"Steve Martin's workshop hit it out of the park. Our entire leadership team and all our senior salespeople were all very positive about the tough love session."
Dales Bastian, Vice President of Worldwide Channel Management, Calabrio Software
"Steve Martin's deep knowledge of the enterprise sales process combined with his insights about the politics and personalities of customer decision making has made a profound and instantaneous impact on our organization."
Lisa McFarlin, Executive Director, AT&T
"The Tales from the Field top salesperson panel absolutely exceeded expectations and received rave reviews from sales kickoff attendees. Steve's preparation and research on the company and our market paid dividends. He provided sound strategy tips that will be fundamental to our sales team's success and his unique ability to weave in the Blackboard experience was critical."
Terry Douglas, Sales Enablement Director, Blackboard
"I can't think of a bigger challenge for a keynote speaker than holding the attention of 350 salespeople while they eat dinner. But Steve's blend of thought-provoking sales advice, fascinating sales psychology, and entertaining humor captivated our audience."
Tricia Manning, Senior Manager, Marketing Communications, Activant Solutions
"Our salespeople found Steve's application of military strategy principles to winning the complex sales cycle fascinating. I'd highly recommend the sales workshop for salespeople who are engaged in hand-to-hand competitive combat in the field."
Mike Corbisiero, Vice President of Sales, AmberPoint Software
"After 30 years in sales, I have never seen anyone make such an impact on a group of salespeople. It was truly transformational! I really think it has changed people's lives."
Deb Hogan, Sales Enablement Leader, Ingersoll Rand-Trane Corporation
"Our annual sales conference is our most important meeting of the year. We want a keynote speaker who not only understands our business, but more importantly, helps our salespeople overcome the difficult challenges they face. That's why we keep inviting Steve back to present."
Kim Roman, Vice President of Marketing, Apptis
"Steve Martin gave a great presentation during our national sales meeting. I continue to receive praise for the content of the material that was covered. It was worth every penny."
Pat Kinnison, Industrial Sales Leader, FW Murphy Company
"Everyone walked away with much enthusiasm and was eager to practice what Steve shared at our meeting.They can't wait to delve into Heavy Hitter Sales Wisdom to get more practical insights."
Kim Nguyen, Vice President of Marketing, Central Life Sciences
"Steve Martin is a thought leader for the sales profession. His approach replaces the tired, traditional sales methodologies that we have seen in one version or another in our career. He will motivate you with his provocative knowledge of the sales process. His style is personal, entertaining, and will dazzle your sales organization."
Peter Riccio, Vice President Sales, SuccessFactors
"We thoroughly enjoyed Steve Martin's presentation, as well as, working with him. His message was right on point and particularly helpful to our field sales team. He was very prepared and the time was well spent!"
Sally Anderson, Vice President Marketing Communications, Chamberlain Group
"Steve's high energy and passion drive his interactive presentation and attendees respond with enthusiasm. The proven concepts of Heavy Hitter Selling are irresistibly compelling and the presentation left everyone wanting to learn even more."
Paula Brici, American Electronics Association, Executive Committee
"Steve Martin provided a great wrap-up to our sales meeting. Everyone is still talking about the exercises. Relationships are the key to growing sales. By using the information you share in your book on language to perfect our communication skills, our relationships with our customers will grow and prosper. Thanks again…it was awesome!"
Zach Bawel, Vice President of Sales, Jasper Engines
"All of my team loved the training !"
David K. Pitman, Senior Vice President Sales and Marketing, SunGard
"I received many "atta-boys" for having Steve Martin present. His due diligence on our company clearly showed and the group really appreciated the relevance of his message!"
Blaine J. Owens, Vice President Sales, Captiva Software
"Other sales training usually focus on processes and mechanics to succeed. Steve Martin puts the practices outlined in Heavy Hitter Selling to work during the training session. Steve's approach to training is very energetic with practical examples created during the training process involving the participants in the room. The training exercise was very thought provoking and enlightening. In this day when the fundamentals of the relationship sales effort are very hard to teach, Heavy Hitter Selling steps in and fills the void nicely."
Jim Lewandowski, Vice President North American Sales, McAfee Software
"Most sales training is death by PowerPoint, where the trainer tries to impose their philosophy on the salespeople. This was totally different. It was engaging and completely interactive. Steve pulled out "our" experiences with examples, audience demonstrations, and the "Tales from the field" interview session. The feedback from the entire team was overwhelmingly positive."
Marie Cabrera, Executive Director Software Sales, IBM
"Steve Martin conducted a one-day training session for my sales and services teams. He is an extremely animated person that developed a great rapport with all of the participants. The session was short by design but I think everyone was impressed with the value of his comments on relationship-building. Most salespeople have been inundated with solution selling courses that focus on the typical aspects of the sales process. What was unique about the Heavy Hitter Selling approach is that the focus is on building the relationship and on reading the prospect/customer. The bottom line is that all of my sales people are now much more sensitized to analyzing prospects responses and determining whether is genuine or they are getting the courtesy response that is indicative of no interest."
Jake Lamotta, Executive Vice President of Sales and Services, Americas, Mathsoft Division of PTC
"The Heavy Hitter Training was excellent. It will help you look into the mirror and make an honest assessment of where the imperfections are. If you are looking for someone to bring clarity to your sweet spot and improve the effectiveness of both your management and sales teams, I'd recommend taking this training as soon as possible."
Earle Zucht, Senior Vice President of Sales, LogicalApps
"Since attending your sales training, I had my entire team read book all of your books. We follow your methodologies to the letter and they have impacted me and my sales teams immensely."
Len Summa, North American Sales Director, Persystent Technologies
"For a keynote speaker to impress a sales force composed of experienced professionals he must have credibility, in-depth knowledge of selling in the real-world, and an entertaining presentation style. Steve Martin hits the mark on all three of these requirements."
Steven Beekhuizen, Senior Vice President Commercial Sales, Dawn Food Products
"I would rate Steve's sessions the Attributes and Strategies of Top Sales Professionals training workshop a 10 out of 10. Our business development teams commented that they really enjoyed the talk and thought it was quite different from the sales training courses they've been to previously. Most importantly, it was completely customized for us."
Fei Peng, Director of Commercial Strategy, Wuxi AppTech
"An excellent session to end our sales meeting and the feedback received from the entire team was very positive. It was eye opening to our group of seasoned professionals"
Terry Healy, Vice President Regional Sales, Tradebe Environmental Services
"If you want your sales organization to go from good to GREAT, Heavy Hitter Selling will move the needle instantly! Steve Martin's passion for sales success is contagious."
Pete Van Sistine, Senior Vice President of Sales and Marketing, Metavante
"I thought it was great workshop, our communication leading up the session was great, and the contracting process was simple. I liked the combination of presentation styles and the team certainly learned a ton! The phrase 'Bully with the Juice' has already entered our vernacular here. "
Shannon Gregg, Director of Sales Operations, Teletracking
"My, oh my, our team of distributors is still buzzing about your workshop! And the LinkedIn message box is buzzing too! Thank you so much for providing that excitement our meeting needed. The dealers have been talking about all of the tips you presented, and we are all anticipating your upcoming LinkedIn Webinar!"
Sam Shelton, Marketing Manager, Kawasaki Motors Corporation
"We thought we knew why our own prospects bought or didn't. This research and analysis provided insight that we never imagined. It gave us a conceptual framework of customer selection process behavior to predictably scale while providing our sales teams with competitive strategies and practical tactics to control our complex sales process."
Peter Riccio, Vice President of Sales, Document Sciences, Division of EMC
"Steve Martin's win-loss study process was deliberate and controlled, and he provided a level of credibility and confidentiality that enabled us to have a very high response rate from prospective customers. Steve's study taught us why we really win or lose with specific types of customers, and has enabled us to dramatically improve our sales process. We are putting the information we received from this study to great use. We were in the process of upgrading our sales training curriculum, and this analysis gave us excellent direction. We are able to target specific marketing and sales messages to specific contacts within our customer base, ensuring that we're effectively targeting their highest priority needs. We are also using the information to assist in the development or modification of product and service offerings, as we now have better insight into the areas of interest of our customers. I highly recommend Steve's study as a source of sales force development and marketing information."
Tom Furey, President, Standard Register Industrial
"We had a tremendous level of interview participation from executive level IT decision makers including CIOs and vice presidents of IT at key accounts. The study results are being used to improve all aspects of our sales process and post-sales account support."
Sharon Maddison, Director of Sales Enablement, TELUS
"Steve Martin's deep knowledge of the enterprise sales process combined with his insights about the politics and personalities of customer decision making has made a profound and instantaneous impact on our organization. Based upon his recommendations, we completely changed our strategy and tactics to engage prospective enterprise customers and manage the sales process resulting in greater sales success."
Lisa McFarlin, Executive Director, AT&T
"Steve Martin provided a great C-Level Selling session for our sales kickoff event that truly resonated with our senior sales audience. His excitement and energy left the entire audience wanting more. We then engaged Steve to conduct an extensive win-loss analysis by interviewing key decision makers at major accounts. The study results were presented to field in conjunction via regional sales training workshops to improve sales effectiveness. He did a great job!"
Pam Mallin, Director of Field Training, Sterling Commerce Division of IBM
Technology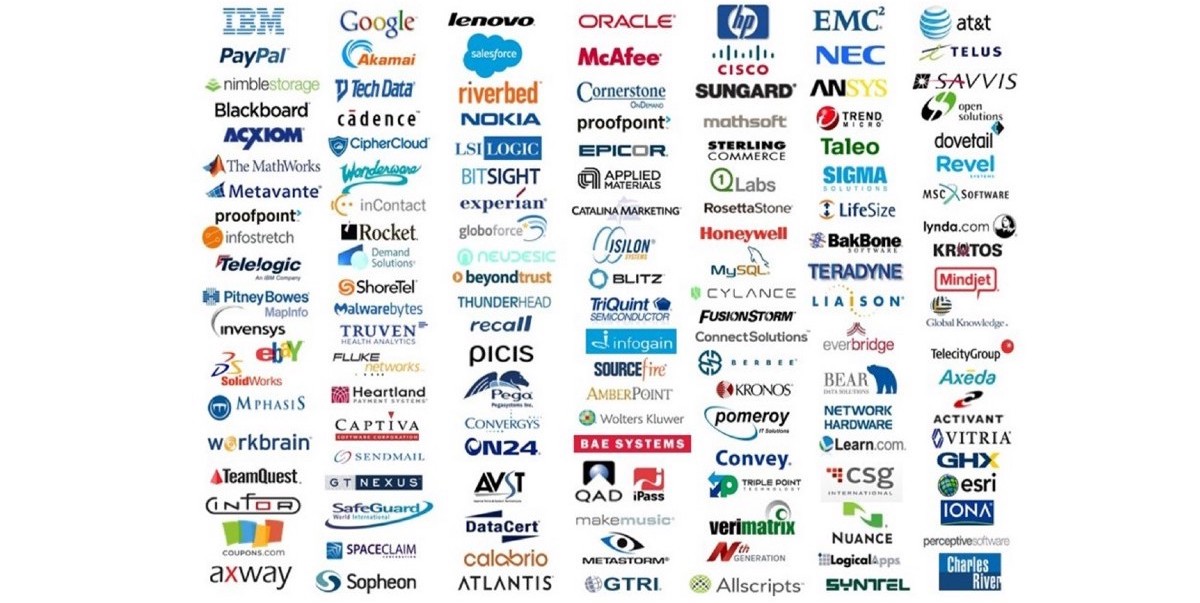 Business Services, Manufacturing and Healthcare
Accent Learning Environments
Advanced Voice Speech Technologies
American Electronics Association
Automotive Resources International
Berbee Information Networks
Brook Recognition Systems
Charles River Development
Computer Generated Solutions
Global Healthcare Exchange
Global Technology Resources Inc
Harmon Connected Services
Hawaii Visitors Convention
Heartland Payment Systems
IBM International User Group
Iona Software - Progress Software
ISI Telemanagement Solutions
Keystone Logic IT Services
Mobile Digital User Solutions
Mphasis - Hewlett Packard
Nelnet Business Solutions
Operational Performance Systems
Pitney Bowes Business Insight
Renweb - Facts Management
Reproductive Medicine Associates
Roof and Building Services
San Diego Software Council
Shukla Medical Technologies
Sigma Technology Solutions
Silicon Valley VP of Sales Forum
Silverlink Communications
Society of Digital Agencies
Software Enterprise Conference
Spredfast Social Media Management
Sungard Insurance Systems
Sungard Financial Systems
Third Brigade Software - Trend Micro
Tradebe Environmental Services
Visionary Integration Professionals
Wolters Kluwer Health Systems
Young Presidents Organization