Research Overview
Over the past several decades the structure of sales organizations have remained largely the same. They have been primarily based on outside field salespeople who make face-to-face sales calls with prospective customers and current clients. In turn, the field salespeople would be supported by inside sales representatives who helped them complete their daily tasks.
Today, the traditional sales organization structure is undergoing a significant change. Many sales organizations are transitioning from a field sales model to an inside sales model, where the inside salespeople work independently from the field and are directly responsible for closing business. In order to understand the magnitude of this trend, in-depth interviews and extensive surveys were conducted with over one-hundred vice presidents of sales at leading high technology companies and business services providers. The resulting research provided detailed insights about the evolution of sales organizations along with the other key findings.
Over the past two years, forty-six percent of study participants reported a shift from a field sales model to an inside sales model. Twenty-one percent reported a shift from inside sales to a field sales model. More than twice as many study participants reported moving to an inside sales model. WHY?
There are three key factors that determine when a sales organization will utilize a field or inside sales model. They are the sales organization's stage of development, the complexity of the products that are sold, and to a lesser extent, the sales leader's perception of inside and outside sales model effectiveness.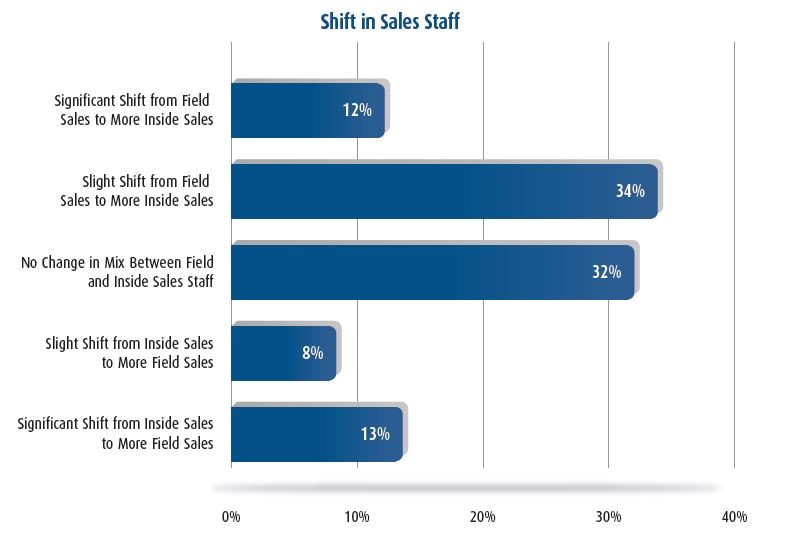 While the goal of this study was to identify the sales organization trends, fifteen additional key findings and their associated metrics were identified as a result of the research.

Complete research details can be found in Steve W. Martin's latest book titled Sales Strategy Playbook.